Issues facing teenagers today, include self esteem, depression, racism, suicide and motivation.
This is a dramatic presentation with music and verse as Geoffrey portrays different characters and brings to life some personal life experience.
(Geoffrey is more than happy to connect with topics/plays/study areas to relate these issues e.g. The texts of Hannie Rayson 'Inheritance' & the works of Henry Lawson).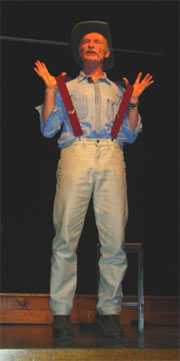 The performances are often tailored to suit the individual school's requirements. For many years Geoffrey has had a keen interest in social
issues and has worked in the adult motivational arena as well as schools with performances and workshops on various issues.

He has combined his training as an actor with a passion for these issues to present A Matter of Life for schools. Realizing that Australian audiences whether adult or students are averse to the preaching type performance that Americans love, Geoffrey presents issues in a non-confronting way.
He combines anecdotes, poems and music in such a way as to present issues and topics to let people make up their own minds i.e. think on these things.
He welcomes feedback and comments from students, and often the question time is lively.
A selection of some of the areas that can be performed
in A Matter of Life
1 SELF-ESTEEM
2 CHOICES (difficulties and repercussions)
3 VALUES & ETHICS
4 MOTIVATION
5 COURAGE & COMPASSION
6 GOALS AND TARGETS
7 Other areas which may be included are: Coping with adversity, Positive thinking, Happiness, Success, Persistence, Achievements, confidence.
'A lively, animated performance with sensitive insights into highly personal issues which confront young adults '…Chris Douglas...Corio Bay Senior College.