Geoffrey provides some choices in presentation at agricultural show
* Compere/MC:
Geoffrey is an experienced compere, presenter, main ring segments etc.
If required, he could also be called upon to perform in other places at the show e.g. Centre ring in between other acts. (For a short segment) or even impersonating 'Banjo' Paterson and performing the 'The Man from Snowy River' complete with stockwhip.

* Stage Entertainment or spots
Geoffrey can adapt his entertainment to do performances throughout the day.
This could be in a marquee with stage area, PA and seating for the audience or it could be in a smaller space such as a historical display area. The target audience can range from children/adults to family groups.
* Kids Entertainment
If you have a special kids area, Geoffrey can provide entertainment for kids with a heritage flavour, to include everything from nursery rhymes (Aussie style) to stockwhip demonstrations.
* Site Entertainment
A unique Australiana set-up which Geoffrey pioneered in Queensland in 2006.
Geoffrey - the 'old timer'- coaxes passers-by to rest while he regales them with yarns, verse and songs using instruments like guitar, accordion, harmonica etc
He is surrounded by early Australian paraphernalia from rabbit traps, billy and swag to stockwhips and harness.
Audiences, on chairs or hay bales, are entertained for minutes or hours, often requesting favourites or Geoffrey's original works.
The emphasis is on more intimate contact, entertaining families and smaller groups for short periods; rather than the larger theatrical stage presentations Geoffrey usually performs around Australia,
Material ranges from original to traditional including Paterson, Lawson, Ogilvie, O'Brien etc as well as a range of Australian songs. Songs and verse can range in topic from local input (characters and events) to Australian heritage such as the goldfields, wool industry, convicts, bushrangers etc; all adding a uniqueness to your show.
* Roving Performer:
Geoffrey becomes 'Banjo' Paterson or 'Bill Baloney' the Swaggie to rove and mingle in the appropriate situations, bringing a touch of authenticity to your show
Details

*Geoffrey can supply:
-- PA system
-- posters,
-- media release material

* Fees
Geoffrey's fee depends on show duration, your requirements and location.
Travel costs may be applicable and accommodation usually required.

Summary & Mission
Geoffrey has a passion for our heritage and folk lore-the songs, yarns and bush verse, and loves to entertain, delight and inspire people.
Testimonial
I would highly recommend DINKUMOZ for anyone who is looking for the ultimate Aussie Performance to compliment any Australian event
. Mark Bryant, Manager, Cairns Show 2006
To discuss your requirements, please call Geoffrey on
03 5446 7104 or simply email..(see contact us )
* Roving Performer: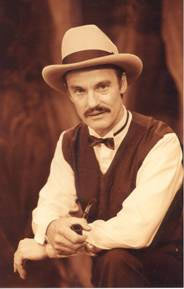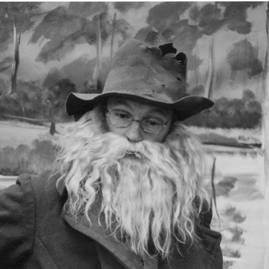 Geoffrey has two Aussie characters that can ably rove and mingle in the appropriate situations, to bring a touch of heritage to your show.
They are - 'Banjo' Paterson and 'Bill Baloney' the Swaggie.
Cost: Geoffrey's fee depends on show duration and show requirements. Please call or email for prices anytime.
Accommodation usually required.
Find out more by getting in touch