For Over 20 years Geoffrey has been presenting and performing the works of traditional Poets as well as his own works.
The current School Syllabus has a curriculum choice of 4 stories from Henry Lawson.
As an adjunct to these works, Geoffrey presents a performance/workshop on Lawson, which looks at these stories, and in particular the style, and background and verse of Lawson.
The intention is to create more interest in the works and life of Lawson; seeing the relevance in today's world. The title Henry Lawson – On the Edge was chosen for a twofold reason. It came from a sketch Lawson wrote entitled 'On the Edge of a Plain' and the fact that his life both physically and emotionally was on the edge.
His contributions and importance: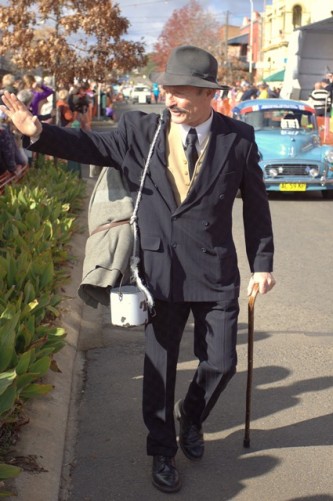 * He has Cultural/literary contribution of the highest level in the areas of prose and poetry.
* Australia has recognised his importance by placing him on the ten-dollar note until only recently.
* He emphasises the voice of the bush and the workingman and the ethos of mateship.
* His works depict Australia's history, landscape and its people.



Points of interest:
* His connection and comparison with 'Banjo' Paterson
* A look at some works of 'Banjo' as a comparison.
* His link with Miles Franklin.


Geoffrey may perform from the following works:
We called him Ally for short
The Bastard from the Bush
Eureka
Andy's gone with cattle
Ballad of the drover
Fire at Ross's farm


Mary called him Mister
O'Hara JP
Do you think that I do not know?
The Greenhand rouseabout
Scots of the Riverina
Taking a chance