Life is full of ups and downs. This performance suggests some tools for handling depression, anger and frustrations. The focus is on positive life skills, achievements and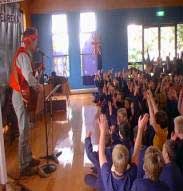 challenges.

The performance looks at some of the ways kids can feel good about themselves, about others and about life. Building confidence & persistence and helping kids get along.
See how Mick, the bully rapper, changes his negative attitude by looking at the big picture...hear Joey tell how he succeeded in dealing with his frustrations.and Darcy realising his success is not based on the success of others.