Ratbags & Romantics is a colourful 2 hour tongue in cheek look at exactly who we really are in this diverse country of ours.
Take a dash of Banjo Paterson, Lawson, Dennis; add songs from people like Jack O'Hagan, throw in Dad & Dave and gems from Geoffrey Graham's own pen and you have a classic night of entertainment. Slightly risque but still a family show, Geoffrey delights blokes and Sheilas alike with everything from his sendups, love songs, exploration of male fantasies and what makes blokes tick.
In his unique style and blend of songs, verse, yarns & comedy Geoffrey brings you a mix of material that is funny, provoking, and most of all entertaining.
BACKGROUND
Since Geoffrey devised the smash hit "The Man from Ironbark", which he is still touring, audiences have been clamouring for another show and one that involves a range of material, especially his own.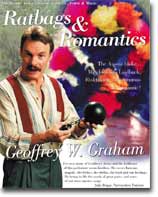 Ratbags Poster
Click to view large image